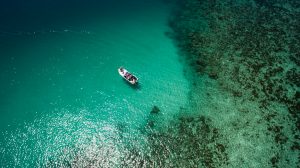 "We've wrapped up another season of turtle nest relocation from Maziwe. Due to inundation of the sandbar in Maziwe Marine Reserve, turtle nests must be relocated to mainland Tanzania for successful incubation.  This year, 3,500 baby turtles hatched and successfully entered the ocean with your support.
"Our daily patrol boat, which monitors the reserve for illegal fishing, had no encounters with dynamite fishing within the protected area! Thanks to generous support this year, the patrol boat is now equipped with new safety equipment, a new engine and fuel tanks allowing our Friends of Maziwe Team to be even more efficient!
"We are happy to share that the coral reef is thriving. We've even seen new and different varieties of reef fish, rays and reef sharks return to the area- all signs of a healthy reef."