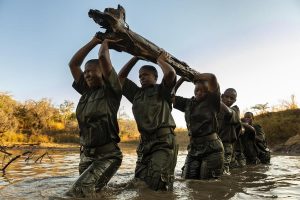 "This World Ranger Day we commemorate the Wildlife Rangers all over the world who have lost their lives in the course of their duties and those who risk their safety every day at the forefront of conservation. Ranger teams across Africa are launching The Wildlife Ranger Challenge,  a race with one goal and a first-of-its-kind pan-African initiative to support over 7,000 men and women across Africa's protected areas who are enduring drastic cuts in salaries and resources due to the devastating economic impact of Covid-19.
"The pandemic has led to wildlife rangers across Africa having their salaries significantly cut, leaving families without income and wildlife vulnerable and unprotected. With many rangers stretched to capacity and international and national borders re-opening, it is feared that protected areas across Africa may experience a rapid increase in illegal poaching as well as a decline in wellbeing and economic security for the communities to whom this wildlife belongs.
"Rangers from 50 protected areas are launching the Challenge, along with Tusk and NATURAL STATE, to support their counterparts across the continent and to bring the sector back to full force.
Watch the campaign video: