Off we go for the 32nd edition of the MARATHON DES SABLES!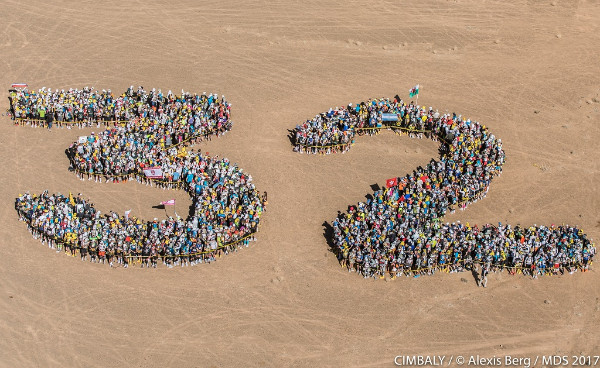 On the menu of the first stage: 30.3 kilometres on a rather easy course, to be completed in less than 10 hours. The winners didn't take that long: 2:10:36 for Mohamed EL MORABITY (D0032-MAR), the younger brother of Rachid (4 victories at the MDS), and 2:38:13 for Elisabet BARNES (D0663-SWE). The feedback of the day comes from Eric FORTIN (D0104-FRA), who is taking part in his 4th MDS: "
We had perfect conditions. It was just a warm-up, with minuscule dunes. True sand will come later on!
"
HOW TO FOLLOW A FRIEND
WRITE TO A RACER
Send your congratulations for today's stage and your encouragements for tomorrow to your relatives participating in the race. They will receive your message on the bivouac tonight. It's easy and will certainly fill their heart with joy!
http://www.marathondessables.com/fr/marathon-des-sables-maroc/write-to-a-racer
PROVISIONAL RESULTS
Go to the LIVE MDS page to see the results almost live. How long did it take for your favourite racer to finish the stage?
http://www.marathondessables.com/results/live/g-live.html?f=MDS2017/MDS2017.clax
PORTRAIT OF THE DAY
Aged almost 17, Emily ROLFE (D0545-GBR) is the youngest woman of this 32nd edition of the MARATHON DES SABLES. But she's not so much impressed about that: "I enjoy challenges and overcoming my limits."
Read the full story at http://www.marathondessables.com/en/marathon-des-sables-maroc/portrait-article/i-really-enjoy-challenges-and-trying-overcome-my-limits
WEBSERIES MARATHON DES SABLES
Discover the webseries #WEAREMDS: astonishing profiles, incredible stories!
Claude and Loïc LEONARDI (D0210&D0211-FRA)
http://www.marathondessables.com/en/marathon-des-sables-maroc/news/claude-and-lo%C3%AFc-leonardi-fra
Fernanda MACIEL (D0388-BRA)
http://www.marathondessables.com/en/marathon-des-sables-maroc/news/fernanda-maciel-bra
Hervé ACOSTA (D0448-FRA)
http://www.marathondessables.com/en/marathon-des-sables-maroc/news/herv%C3%A9-acosta-fra
Dmitry and Nick LIKANE (D0598&D0599-AUS)
http://www.marathondessables.com/en/marathon-des-sables-maroc/news/dmitry-and-nick-likane-aus
Eray CAKIR (D0702-GBR)
http://www.marathondessables.com/en/marathon-des-sables-maroc/news/eray-cakir-gbr
Amy COSTA (D1237-USA)
http://www.marathondessables.com/en/marathon-des-sables-maroc/news/amy-costa-usa
Don't forget to take a look at :
- The best pictures of the day :
http://www.marathondessables.com/fr/marathon-des-sables-maroc/photo-gallery/stage-1-303-km
- The first stage video on the WEB TV :
http://www.marathondessables.com/en/marathon-des-sables-maroc/web-tv